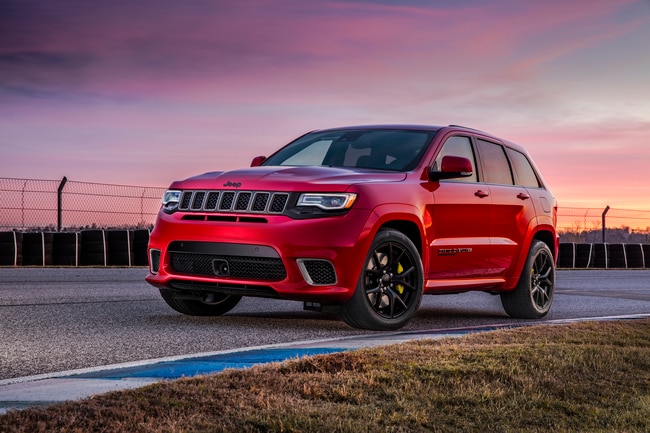 ​
The 2018 Jeep Grand Cherokee is available in several trims and they all have an athletic, all-American look and heavy doses of luxury and refinement. If you want all the flash and flair the top-rated Overland trim is rated the most luxurious vehicle in its class and will surely turn heads driving around Batavia.
If you prefer your SUV to be more than a "hauler", there are three different Grand Cherokee options that go above and beyond what's expected of this segment.
The first is the Grand Cherokee Trailhawk trim. If you're unfamiliar with the Jeep brand, outside of the Jeep Wrangler lineup the Trailhawk badge means a Jeep vehicle is off-road ready. It'll have skid plates for protection, a lift for ground clearance, subtle exterior changes that take approach and departure angles into consideration, a tuned suspension, tow hooks, and more technology and amenities for the dusty and bumpy trails. The Wrangler will always be the king of the trails, but you'd be surprised at how hard the Grand Cherokee can go when the pavement ends.
If you're looking for more grunt under the engine then the SRT trim is an excellent place to start. It has a 6.4L HEMI® V8 with 475 horsepower and 470 lb-ft of torque. It's track ready, has black accents for added edge, and a high-end interior. Still not impressed? Well, until the 2018 model year the SRT was the highest level of performance the Grand Cherokee lineup had to offer, but that all changed with the addition of the Trackhawk. The 6.2L HEMI® V8 turbocharged engine is incredibly fast (11.6 seconds for a quarter-mile), which makes it the quickest SUV ever. Period. Horsepower is— wait for it— 707 and there's 645 lb-ft of torque. Is it over the top? Yes, but in the best way possible!
For more information on these Jeep Grand Cherokee trims for the enthusiast, contact us or stop into our dealership.